Complimentary Courtesy Bus – Currently unavailable due to COVID -19 restrictions. 
For members and guests
Leave your car at home and enjoy your time with us.
The Surf Club Mooloolaba's Courtesy Bus services a large area of the Coast, picking up and dropping off members and guests, every day at scheduled times (listed below).
It's comforting knowing you have a safe way of getting home.
To book a pick up seat on our Courtesy Bus, please phone the driver 0407 624 667.
To ensure a seat on the Courtesy Bus home, please make your booking at reception and be ready to leave at least five minutes prior to departure.
Please note a few guidelines:
Passenger Limit – The Courtesy Bus can only carry 10 passengers at a time.
No Child Seats – Unfortunately the courtesy buses cannot accommodate children under the age of 7 as no child restraints are fitted in the bus.
Pick  up and Drop Off Points – Pick up and drop off points are at place of residence only. Our courtesy bus service does not pick up or drop off at other businesses, clubs or venues.
Passengers are expected to spend at least 90 minutes at the club
Service is provided on a first call basis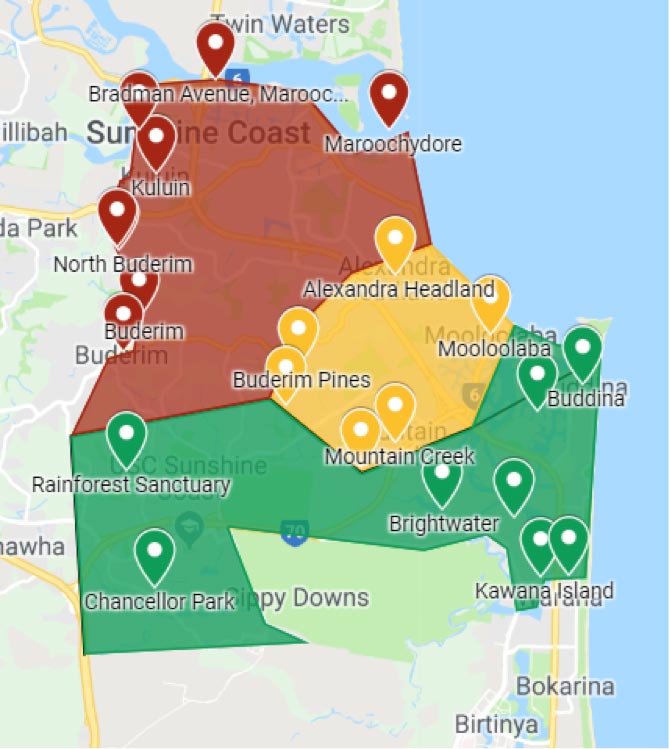 Zone 1
Mooloolaba, Alexandra Headland, Headland Park, Buderim Pines, Buderim Meadows, Mountain Creek, Glenfields and Hideaway Waters
Zone 2
Minyama, Buddina, Brightwater, Kawana, Kawana Island, Warana (to Palkana St), Parrearra, Rainforest Sanctuary, Timberdale, Chancellor Park
Zone 3
Maroochydore, Kuluin, North Buderim, Buderim (to Gloucester Rd), Jones Rd, Main St, Fisherman's Rd, Bradman Ave.
---
Hours of Operation
Monday – Thursday
Pick-up service available from 4:30pm – 8:00pm
Drop-off times below. Departing from The Surf Club Mooloolaba
5:00pm Zone 1 & 2
6:00pm Zone 1 & 3
7:00pm Zone 1 & 2
8:00pm Zone 1 & 3
9:00pm Zone 1 & 2
10:00pm Zone 1 & 3
---
Friday and Saturday
Pick-up service available from 4:30pm – 8:00pm
Drop-off times below. Departing from The Surf Club Mooloolaba
5:00pm Zone 1 & 2
5:30pm Zone 1 & 3
6:00pm Zone 1 & 2
6:30pm Zone 1 & 3
7:00pm Zone 1 & 2
7:30pm Zone 1 & 3
8:00pm Zone 1 & 2
8:30pm Zone 1 & 3
9:00pm Zone 1 & 2
9:30 pm Zone 1 & 3
10:00pm Zone 1, 2 & 3
---
Sunday
Pick-up service available from 2:30pm – 8:00pm
Drop-off times below. Departing from The Surf Club Mooloolaba
3:00pm Zone 1 & 2
4:00pm Zone 1 & 3
5:00pm Zone 1 & 2
5:30pm Zone 1 & 3
6:00pm Zone 1 & 2
6:30pm Zone 1 & 3
7:00pm Zone 1 & 2
7:30pm Zone 1 & 3
8:00pm Zone 1 & 2
9:00pm Zone 1 & 3
10:00pm Zone 1, 2 & 3