An iconic club
Established in 1922
The Surf Club Mooloolaba is one of the oldest Surf Life Saving Clubs in Australia. Established in 1922, it has grown to become one of the premier Surf Lifesaving Clubs in Australia.
The Surf Club Mooloolaba, rich in club history, has set the solid foundations for what our club is based on today. We live by a set of morals and values outlining a strong community focus and emphasising tradition, respect and Australian Beach Culture.
Much of the Surf Life Saving Club's history is displayed throughout the club. As you walk through the Club's Reception you will see photographs showcasing how the Club House has evolved over the years, the name of champions on the trophies which are proudly displayed in the glass cabinets, old photographs which surround the bar from the early days and framed biographies of many great members who have helped shape our iconic Club.
A place steeped in history and tradition that you can't help feel a part of.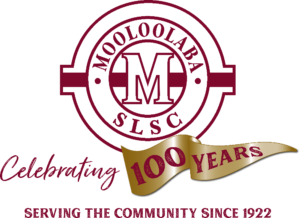 Centenary Celebrations
Mooloolaba Surf Lifesaving Club Celebrating 100 years from 1922 – 2022
Mooloolaba Surf Club's 100 yr. anniversary will occur in November 2022.
As part of the celebrations Joe Western, Life Governor of the Mooloolaba Surf Life Saving Club, along with long standing members of the club, are extremely passionate to build a new surf boat, a replica of the very first Mooloolaba surf boat "Spray".
The club's origins can be traced back to November 1922 when it was known as the Mooloolah River Sports Club. By 1923 it had transformed into a surf lifesaving-based organisation operating out of a Club Shed erected just a few weeks beforehand. And not long after the club's fi­rst surf boat "The Spray" was launched.
The idea is to create a Replica "Spray 2" , built to compete. Designed with decals representing ropes along the sides, similar to that of its original. During the 1922/23 season (centenary year) the boat will not be used for advertising, but will be open for sponsorship opportunities throughout the rest of its competition life, approx. 5-6 years.
The cost to bring "Spray 2" to life will be approx. $30,000. Joe and the team at the Surf Club are seeking help from Members past and present. Those keen to support this project, please direct your donation to the Surf Life Saving Club. All donations will be tax deductible. The Surf Life Saving Club thank you our Members for their continued support.